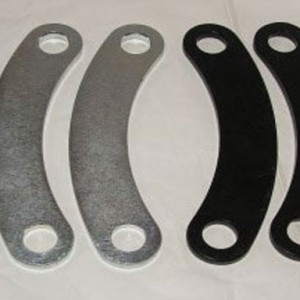 1″ OR 1.5″ Lowering Bracket Kit Silver or Black
1″ OR 1.5″ Lowering Bracket Kit Silver or Black
Lower your Victory Motorcycle with our easy to install lowering bracket.
1″ OR 1.5 INCH Lowering Bracket Kit, Silver or Black
REPLACES STOCK SHOCK MOUNT BRACKET KIT "SLAM YOUR VICTORY MOTORCYCLE"
Lower your bike only 1 inch to 1 1/2  inch will not cause any clearance issues (unless on Vegas Low) and still gives you that custom low look .
*Lowering Kits are NOT RECOMMENDED for use on Vegas Low"
2003 – 2014 Victory Motorcycle Hammer
2003 – 2014 Victory Motorcycle Jackpot
2003 – 2014 Victory Motorcycle Kingpin
2003 – 2014 Victory Motorcycle Vegas
2003 – 2014 Victory Motorcycle VEGAS / Victory Motorcycle KINGPIN
2010 – 2014 Victory Motorcycle HIGHBALL
2003 – 2014 Victory Motorcycle HAMMER / Victory Motorcycle VEGAS JACKPOT
2010 – 2014 Victory Motorcycle BOARDWALK
2013 – 2014 Victory Motorcycle JUDGE
Note: The 2 or 3 inch kits may cause the belt to rub on 2007 or prior Victory Motorcycles. To overcome the belt rubbing issue on the 3 inch lowering kits.
3 inch lowering kits may require modifications to be done to the following
parts for proper operation
1. front of belt guard shortened 1/8-1/4 inch so it does not rub on front
 sprocket cover
2. front sprocket cover may require removing cast in 3/16 cast edge on the
 inside of cover. This is easily done by removing front sprocket cover and
using a small grinder to remove cast in edge. 3. Belt adjustment will also be necessary. Adjustment can vary but usually
is 1-3 turns on the belt adjust screws. Please consult the factory manual
 or your local dealer before any adjustment is made.
4. Adjustment of shock spring may be necessary to achieve desired ride
quality. The shock spring can be adjusted by tightening  the upper spring
perch adjustment. This will require the use of the correct spanner wrench
or adjustable spanner wrench. Consult your local victory dealer or local
motorcycle shop for these tools

Fits: Victory Motorcycle Vegas, Victory Motorcycle 8Ball, Victory Motorcycle Jackpot, Victory Motorcycle Hammer, Victory Motorcycle Kingpin, Victory Motorcycle judge, Victory Motorcycle High Ball,  Victory Motorcycle Boardwalk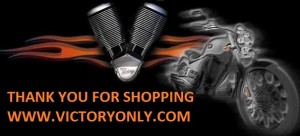 Victory Only Motorcycle carries the largest stock of performance mods, upgrades, custom equipment gear, apparel, OEM replacement and aftermarket parts and accessories for Victory Motorcycles with international worldwide shipping to Canada, UK, CZ, GB, Australia and anywhere a Vicory Motorcycle rider wants to do it yourself customizing of a show quality bike. If you are looking for Chrome or Black Contrast Cut billet aluminum accessories. Just shop Victory Only and Owens Cycle Works website for retail purchases or dealer wholesale orders for Victory's parts.
1″ OR 1.5″ Lowering Bracket Kit Silver or Black
| | |
| --- | --- |
| Weight | 2 lbs |
| Finish | Silver, Black |
| Size | 1 1/2 inch, 1 inch |
Only logged in customers who have purchased this product may leave a review.