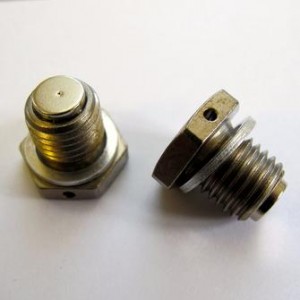 Oil Drain Plug Magnetic DIMPLE SUPER
In stock
Dimple Super Magnetic Drain Plug Facts
A.  THE NEED
Since the Victory machine has only ONE drain plug for the wet sump which houses and lubricates the Engine, transmission and primary chain case……It is of the utmost importance to have a Dimple® M12X1.5X12R Super Magnetic Drain plug installed to pull out all the metal contaminants that the oil filter cannot get out!
When you think about it, it is about the only thing you can do to Extend the like of your Victory Motorcycle.
In Victory's case…….One plug will do it all!
THE STRONGER THE MAGNET THE CLEANER THE OIL
DON'T forget a set of super black holes, amazing!
"The stronger the magnet, the cleaner the oil"
      Motor oil works best by itself, uncontaminated
1. continuous friction creates unwanted tiny metal particle contamination
   2. these tiny metal particles are measured in microns
   3. a micron is one millionth of a meter
   or: 25 microns =.001″ / One thousand's of an inch is = to 25 microns! 
   4. all the contaminates cannot be removed by the oil filter
   5. an oil filter can remove particles larger than 35 microns
   6. dimple® products remove the rest
   7. if not removed this contamination is circulated millions of times between each oil change, polishing (wearing) down the metal until the engine is worn out.
   8. there is still residue left in the engine, even after an oil change
   9. so new oil in the engine, does not mean, non contaminated oil
  10. vehicle owners don't know this
  11. at dimple® products we are here to educate
  12. then provide a solution that works all the time
  13. always saving you money
B. HOW WE DO IT!
   1. dimple® products uses extreme magnetism to rip the metal particles out of your oil and keeps it out
   2. all magnets are not created equal
   3. dimple® magnets are made under contract to insure that they are always what we say they are, the strongest high temperature grade  neodymium magnets in the world
   4. our high temperature neodymium magnets do not loose magnetism like regular neodymium magnets do at only 175 degrees F.
Dimple's® Black Hole High Temperature Magnets are rated at over 300F

   5. dimple magnets work easily in all hot engine environments
   6. the nature of dimple® specified magnets makes them last a long, long time. The formula for figuring out how long your Dimple® Magnet will last is: Our magnets degrade 1/2 of 1% every one hundred years!!!!!
We guarantee they will work for your lifetime.
Don't delay, your engine is in harms way!

Fits: Victory Vegas, Victory 8ball, Victory 8 Ball, Victory 8-Ball, Victory Jackpot, Victory Hammer, Victory Kingpin, Victory Cross Country, Victory Vision, Victory V92C, Classic, Victory V92SC, Victory Sport Cruiser, Victory V92TC, Victory Touring Cruiser, Victory Judge, Victory High Ball, Victory Hard Ball, Victory Cross Roads, Victory Boardwalk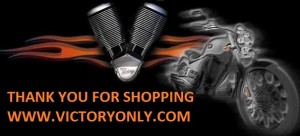 Victory Only Motorcycle carries the largest stock of performance mods, upgrades, custom equipment gear, apparel, OEM replacement and aftermarket parts and accessories for Victory Motorcycles with international worldwide shipping to Canada, UK, CZ, GB, Australia and anywhere a Vicory Motorcycle rider wants to do it yourself customizing of a show quality bike. If you are looking for Chrome or Black Contrast Cut billet aluminum accessories. Just shop Victory Only and Owens Cycle Works website for retail purchases or dealer wholesale orders for Victory's parts.
Oil Drain Plug Magnetic DIMPLE SUPER
Only logged in customers who have purchased this product may leave a review.