Sale!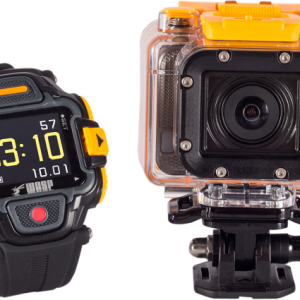 CAMERA GIDEON WASPCAM ACTION
In stock
SKU:

4402-0456
Categories: Boardwalk, Cross Country, Cross Roads, Gunner, Hammer, Hard Ball, High Ball, Jackpot, Judge, Kingpin, Magnum, Navigation & Camera, Navigation & Camera, Navigation & Camera, Navigation & Camera, Navigation & Camera, Navigation & Camera, Navigation & Camera, Navigation & Camera, Navigation & Camera, Navigation & Camera, Navigation & Camera, Navigation & Camera, Navigation & Camera, Navigation & Camera, Navigation & Camera, Navigation & Camera, New Arrivals, Touring Cruiser, V92C, V92SC, Vegas, Vision
CAMERA GIDEON WASPCAM ACTION
The Next Generation camera System is Here !!
GIDEON FEATURES:
Records High-Definition video @ 1080p60, 1080p30, 960p60, and 720p120.
Includes Wireless Wrist Remote* that connects to the camera up to 15 feet away. Controls photo and video functions, has standard watch functions and best of all, a live viewing feed so you can see what the camera sees
Up to 16-Megapixel photo quality (or choose from 12MP, 8MP and 5MP).
Auto-Looping Function: video records over itself—perfect for automobile applications or continuous video recording!
WiFi built-in. Connect camera to smartphone for live viewing, remote control and instant sharing online.
Camera (when installed in waterproof casing) and remote are waterproof down to 196 feet
Weight: 200g
The all-new Gideon is WASP cam's premium camera model, pushing out serious pixel-power, higher frame-rate quality and allowing no room for error when it comes to capturing the best shot, thanks to WASPcam's
New Live Viewing Display (LVD) wrist remote
Records HD video up to 1080p60 (and also 1080p30, 960p60 and 720p120),
Snaps still-images up to 16-Megapixel
Built-in WiFi connects the camera to an iPhone® or Android® for live viewing
Recording and sharing content online with friends and fans
Destroys competitors with its feature-rich LVD Wrist remote
Wireless wrist remote, which connects to the camera via Radio Frequency (RF), providing users with a LIVE viewing screen and remote control for their Gideon.
The LVD connects to a Gideon from up to 15 feet (5 meters) away and also acts as a real watch, displaying time and date
Wrist watch Style Screen Alows viewing and recording From 15 Feet away. You can also watch on the Camera Screen or Both if you decide to.
Included accessories:
waterproof camera casing
waterproof casing backdoor
vented casing backdoor
wireless wrist remote with Live Viewing Display (LVD)
flat adhesive mount
curved adhesive mount
lens cover
anti-fog inserts
rechargeable lithium-ion battery
wall charger
secure tether
swivel T-tip mount and hook-and-loop strap
Why Spend more money for a Product that does not include this many accessories and does not include a Wrist Viewing Display Screen?
Note most Go Pro accessories will also work with these systems if you already have them.
Victory Only Motorcycles carries the largest stock of custom and aftermarket parts & accessories for
Victory Motorcycle Jackpot, Victory Motorcycle 8 Ball, Victory Motorcycle Judge, Victory Motorcycle Vision,
Victory Motorcycle Cross Country Xc, Victory Motorcycle Cross Roads XR, Victory Motorcycle Boardwalk, Victory Motorcycle Highball,
Victory Motorcycle Gunner,Victory Motorcycle Kingpin, Victory Hammer, Ness Models,
Victory Motorcycle Vegas, Victory Motorcycle Vegas Jackpot, Victory Motorcycle V92C Classic Cruiser,
Victory Motorcycle V92Sc Sport Cruiser, Victory Motorcycle V92TC Touring Cruiser, Victory Hardball,
Victory Motorcycle Kingpin Low, Victory Motorcycle Gunner, Victory Motorcycle Custom Bagger Bikes,Victory Hammer 8ball,
Victory Motorcycle Custom Build Arlen & Corey Ness bikes. motorcycles with worldwide shipping to Canada, Uk,
Australia and anywhere a Victory Motorcycle rider wants to ride a show quality bike.
CAMERA GIDEON WASPCAM ACTION
Only logged in customers who have purchased this product may leave a review.